Тамара Фриз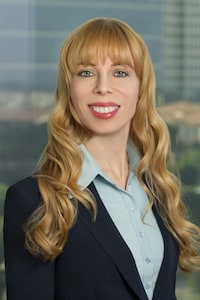 Oбразование
J.D. University of California, Berkeley
B.A. University of California, Los Angeles
Лицензия
Калифорния
Ассоциации
Американская Коллегия Адвокатов
Коллегия Адвокатов Орандж Каунти/Лос-Анджелеса
Национальный Союз Трудовых Адвокатов
Калифорнийский Союз Трудовых Адвокатов
Опыт работы
Skadden Arps Slate Meagher & Flom, LLP (Los Angeles); Littler Mendelson, P.C. (San Francisco); Jeffer Mangels Butler & Marmaro, LLP (Los Angeles); Bryan Cave LLP (Irvine)
Тамара Фриз - выпускница одной из самых престижных школ права в Соединенных Штатах - Калифорнийского Университета Беркли и имеет значительный опыт работы в сфере трудового права. До открытия собственной юридической практики, Тамара Фриз работала в крупнейших юридических фирмах в Сан Франциско, Лос Анджелесе и графстве Орандж. Адвокат Фриз успешно защищает интересы клиентов в любых судах Калифорнии.
Адвокат Фриз имеет большой опыт представления клиентов в сфере дискриминации, домогательств и издевательств («харасмента»), сексуальных домогательств, необоснованных увольнений, расторжений контрактов и не выплаты зарплаты и пособий («бенефитов»). Она представляет клиентов в индивидуальных и групповых исках, консультирует клиентов по вопросам внутренних правил компаний, составлений контрактов, представлений нужных документаций, корректных взаимодествий с работодателями, переговоров по выплате компенсации и юридических стратегий.
Адвокат Фриз представляет клиентов в штатных и федеральных судах в Калифорнии, а также в административных жалобах EEOC/DFEH и арбитражных спорах.
Научные статьи
Адвокат Фриз является автором ряда публикаций: "Evaluating Eligibility for FMLA Leave: Federal Case Law Underscores the Need for Informed Decision Making," The Labor Lawyer, August 2006; Whitepaper "Strategic Initiatives for Countering the Class Action Epidemic," May 2006, and a co-author, 2006 "Equity Compensation," The National Employer.
А так же:
Трудовое Право в Вопросах и Ответах
Афиша, Сентябрь 2009
Право На Подходящие Рабочие Условия При Болезни Или Инвалидности
Афиша, Октябрь 2009
Флирт на Работе: Миф и Правда
Факт, Сентябрь 2009
Презентации
Career Builders 2007 at the Crystal Cathedral, Women in Business Expo 2007, and South Bay For You Women's Network.
Награды и номинации
В 2008 году адвокат Фриз была отмечена Бизнес Журналом Лос Анджелеса. В 2007 году она получила первый приз от Национальной Ассоциации Женских Директоров за её блог «Менеджмент персонала». Адвокат Фриз также получила приз Проссера в сфере муниципального права (2003), приз от адвакатуры города Лос Анджелеса (2003), премию писателя Курниц (2000), а также предпринимательскую премию от Оксфордского Университета (1996).
Биография
Адвокат Фриз свободно говорит по-русски. Адвокат Фриз получила степень Бакалавра из Калифорнийского Университета Лос Анджелеса (UCLA)с отличием. Она продолжила образование в одной из самых именитых школ права в Университете Беркли, где иполучила степень доктора права (J.D.).