Wage & Hour Disputes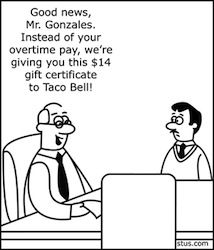 Wage, Hour, and Overtime Disputes (Single Plaintiff and Class Action), Including Meal and Rest Periods Cases and Misclassification Cases:
Have you been working unpaid overtime? Do you frequently fail to take your meal and rest periods because you are too busy or because your employer does not allow you to? Is your employer paying you less than a minimum wage (currently, $8/per hour in California).
To learn more - contact our law offices today.